Explore some of the country`s best casinos to enjoy gaming in breathtaking landscapes and vibrant cities!
Germany is a country synonymous with the glorious Alps, Berlin, castles, beer, and
techno music. They have got a little bit of everything for every kind of traveller whether you are looking to fulfil your life's mission to find the best beer, or want to immerse yourself in industrial plant-turned-heritage sites. But what you might not know is that it is a good destination for gaming, too. While not as theatrical as the Vegas scene (sorry, no acrobatic dancers hanging from the ceiling here!), German casinos have their own distinct and elegant flair.

The stunning beauty of the German Alps - Alpenwelt Karwendel / Stefan Eisend
Sure, most gaming fans have probably got their poker apps or desktop roulette by now. Tuxslots even notes how online versions of casino classics like blackjack, baccarat, roulette, and craps are now pretty realistic. This means that the platform is able to simulate its real-life counterparts accurately for players anywhere in the world. But while technological developments like these have been a boon for modern gaming enthusiasts worldwide, they have also pushed land-based casinos into providing unique experiences you can't get anywhere else. Nowhere is this more true than in the breathtaking casinos in Germany. So while it costs less than a plane ticket to click and turn in your bets online, the land-based casinos below can excite you in a whole different way. Note that Germany alone has more than 50 casinos to choose from, but we have narrowed it down to a chosen few.

Enjoy a round of poker at the glamorous Kurhaus, Baden-Baden

It doesn't matter if you're a seasoned high roller or have only played BINGO with your grandma, the Kurhaus of Baden-Baden is a sight to see for all. Built in 1824, it is an iconic casino with an unmistakeable glamour, providing the ultimate hedonistic getaway for the James Bonds of the world. Kurhaus has separate areas for slot machines and classic gaming from poker and roulette, to blackjack and more. While there is no hotel here, there is a spa for the ultimate relaxation experience onsite, while the opulent Brenners Park Hotel and Spa is just a stone's throw away.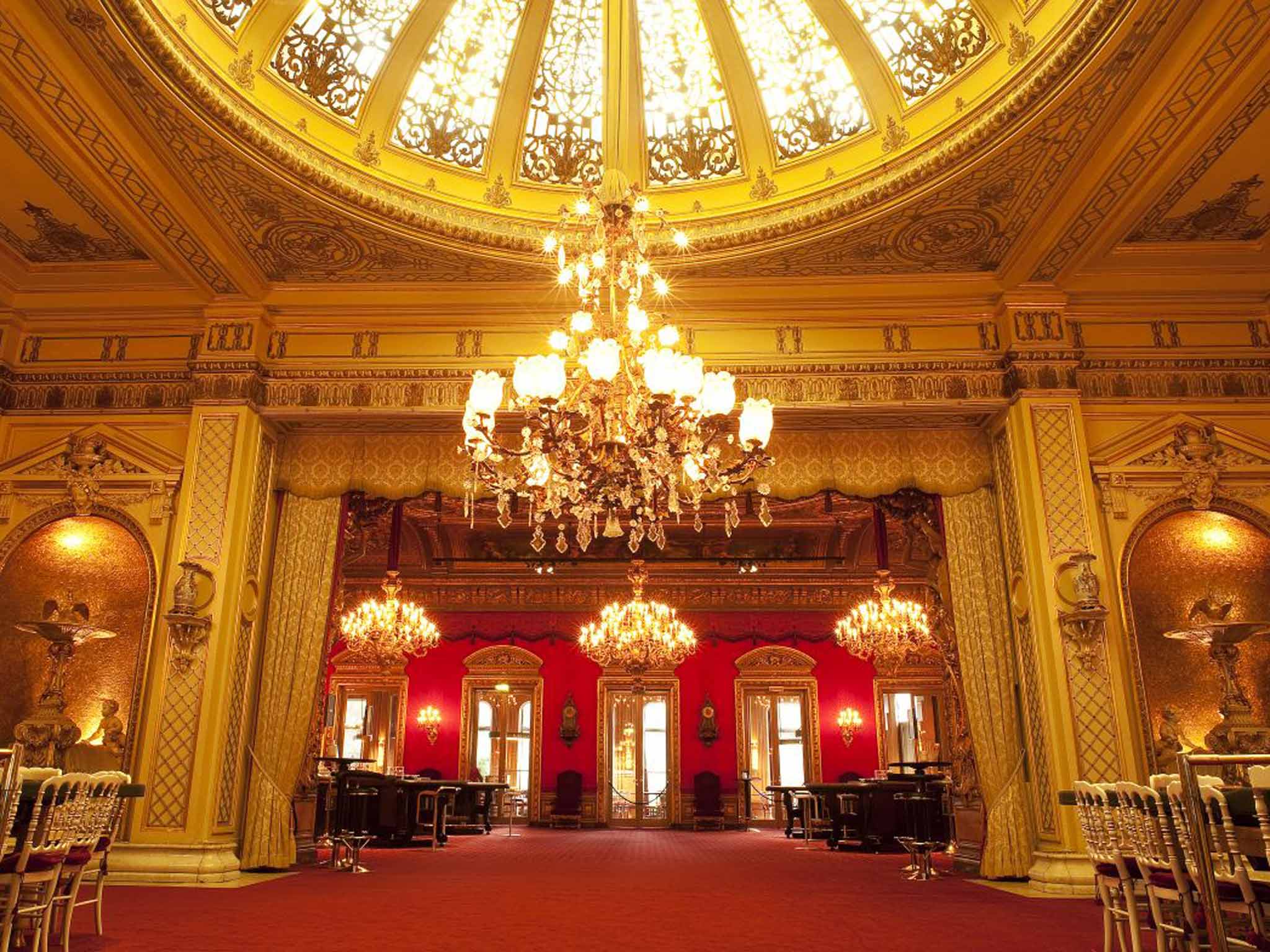 Photo Credit: The Independent

Experience the classic German Roulette of Spielbank Bad Ems

In Germany, most casinos can be found in resorts in spa towns, which explains the word "Bad" (bath, spa) at the start of their names. Located on both sides of the picturesque River Lahn, the Spielbank Bad Ems is mostly known as a bathing resort. But over the years,
tourists have come flocking to its 3,300 square-foot casino, which features 70 slot machines and six table games. These include classics like the Multi Roulette and German Roulette, among others.




Photo Credit: Casino Guide

Explore the expansive Gambling Halls of Spielbank Potsdamer Platz

In truth, the Potsdamer Platz is one of the most vibrant areas in Berlin, characterised by its luxurious hotels, busy shopping areas, and striking architecture. Unsurprisingly, the casino here offers more than just the usual blackjack, poker, and baccarat. Spanning three floors, the Spielbank Berlin is the biggest in the capital, and has everything from party rooms and theatres, to restaurants and live music. Opened in the year 2000, it is one of the most successful casinos in the entire country, with numerous opportunities to hit the jackpot.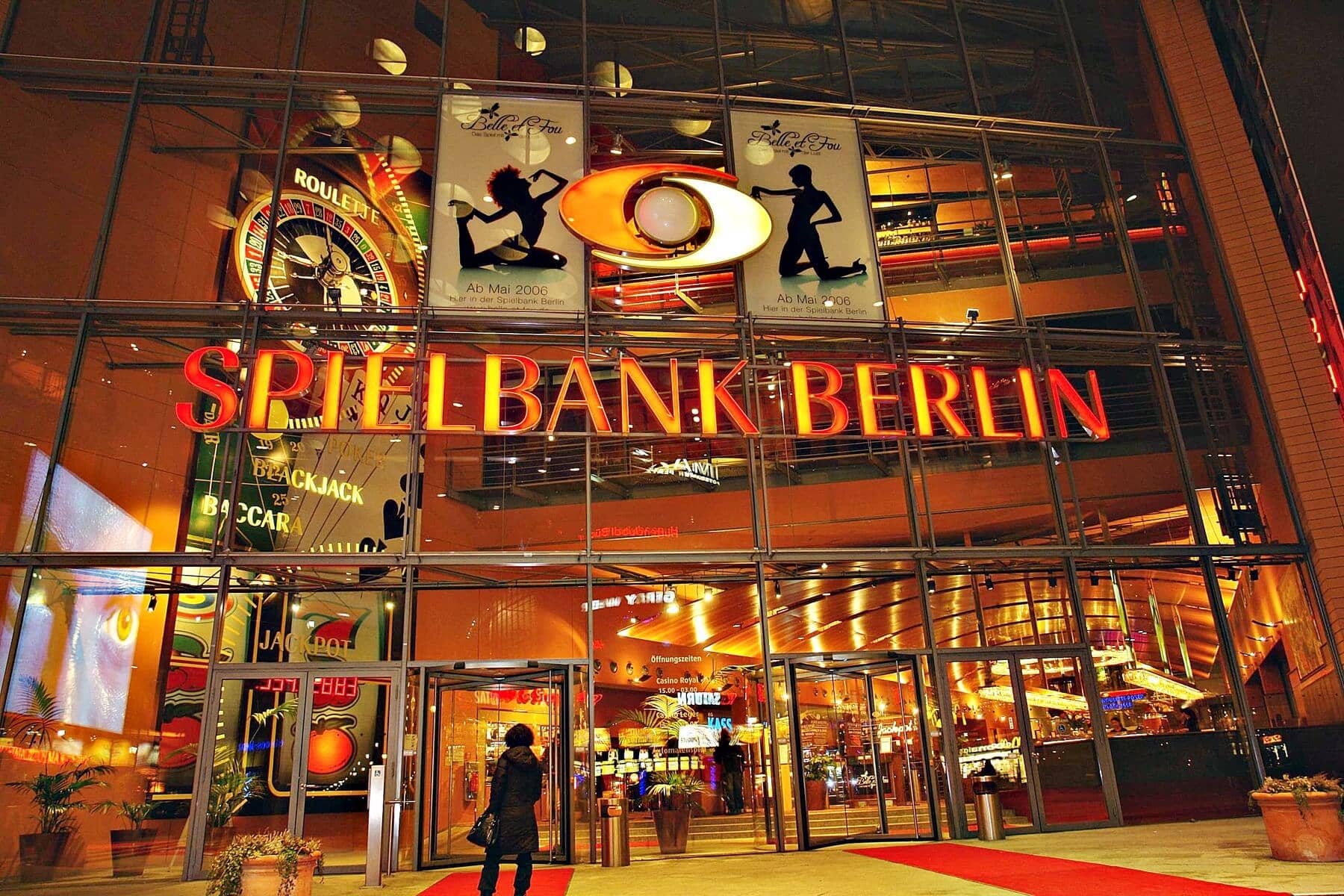 Photo Credit: Casino Online

Get lost among the slot machines of Spielbank Fernsehturm

Another Berlin favourite, the Spielbank Fernsehturm offers an extensive range of games for all players. With a grand total of 260 slot machines, four poker tables, and five table games, it's easy to see why it's a hit with the local gaming community. Though smaller than the Potsdamer Platz, it offers a more laid-back atmosphere and themed nights every first Friday of the month. If that's not enough, you can enhance your experience with champagne, course meals, and a live DJ to set the mood as you place your bets.





Photo Credit: Sumfinity

Find Solace in gaming at Bad Wiessee

Overlooking the beautiful Lake Tegernsee, Bad Wiesse provides a ludicrously relaxing atmosphere. So even if the odds are stacked against you, well, at least you get to go down against the backdrop of majestic mountains. That aside, the building stands in contrast to its environment with its modern glass walls and steel posts. Inside the casino, the gambling rooms are unlike the loud Vegas settings. Almost as serene as the lake surrounding it, they offer blackjack, roulette, and other classic table games. Make your way to the back of the room and you'll find a fully stocked bar illuminated by neon lights for those who'd rather sit down with a drink.





Photo Credit: Merkur

We all know virtual blackjack does not look as good on Instagram as a
real-life casino does, so if you're looking for luxury hotels and more travel and
lifestyle inspiration, head over to the KHL Lifestyle blog and enjoy the read!
Contributed by: Hugo Gisselbrecht
*Collaborative Content*

---
Konversation wird geladen